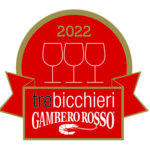 TECHNICAL FEATURES:
Wine type: Albana di Romagna
Grapes: 100% Albana – Compadrona clone
Area of origin: Bertinoro
Vineyards: Fratta-Maestrina
Produced bottles: 35.000
Vine surface: 5.00 ha
Exposure: east-north-east
Soil: clayey mixture, with presence of active limestone
Oenologist: Emanuele Casadei
Planting density: 3000-5000 vines per ha
Training system: Double "guyot"
Production per ha: 8.500 kg grapes, 5.522 l wine
Colour: Straw yellow with light golden nuances
Bouquet: Fruity, with evident citrus notes
Taste: Energetic, vibrant, with character and persistence
Aging: in stainless steel vats
Food matching: Noodle dishes, grilled fish, white meats
ANALYTICAL FEATURES
Alcohol: 14.30% vol.
Residual sugars: 0,5 g/l
Volatile acidity: 0.33 g/l
Total acidity: 5.9 g/l
Net dry extract: 20 g/l
Sulphurous: 52 mg/l
Free sulphurous: 25 mg/l
2020 VINTAGE FEATURES
Having solved the problem of floral abortion experienced in 2019, in 2020 we went back to average yield and we can state that Maestrina vineyard is reaching its top quality production, with bunches in excellent health. The grapes were introduced into the cellar the first week of September: in the last few years, this has become the normal harvesting time for Albana (2 weeks earlier than 10 years ago).
I CROPPI 2020, like its predecessors, fully expresses the personality of this variety and Bertinoro's soil is evident in its savory and mineral notes.
This white wine is extremely elegant, well-structured and easy to pair with any food.