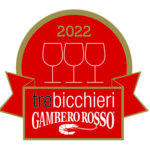 TECHNICAL FEATURES:
Wine type: Albana di Romagna
Grapes: 100% Albana – Compadrona clone
Area of origin: Bertinoro
Vineyards: Fratta-Maestrina
Produced bottles: 35.000
Vine surface: 5.00 ha
Exposure: east-south-east
Soil: clayey mixture, with presence of active limestone
Oenologist: Emanuele Casadei
Planting density: 3000-5000 vines per ha
Training system: Double "guyot"
Production per ha: 8.500 kg grapes, 5.525 lt wine
Colour: Straw yellow with light golden nuances
Bouquet: Fruity, with evident citrus notes
Taste: Energetic, vibrant, with character and persistence
Aging: in stainless steel vats
Food matching: Noodle dishes, grilled fish, white meats
ANALYTICAL FEATURES
Alcohol: 14.25 % vol.
Residual sugars: 0 gr/lt
Volatile acidity: 0.33 gr/lt
Total acidity: 6.5 gr/lt
Net dry extract: 21.6 gr/lt
Sulphurous: 40 mg/lt
Free sulphurous: 22 mg/lt
2022 VINTAGE FEATURES
Grapes were harvested the last week ofAugust with excellent analytic balance. Sugars and ph were relatively low and acidity was good, what is different in 2022 is the pigmentation of colour that appears highlighted: golden yellow with amber nuances.
In the mouth, it is both warm and refreshing with vibrant entry, counterbalanced by mineral, chalky flavour that most represent Bertinoro's terroir